Charles Gehm
Charles Gehm has been both an illustrator and fine artist for over 40 years. He's created movie posters ("Barry Lyndon", "The River"), limited edition prints ("Gone with the Wind", "The Wizard of Oz") and collector plates, as well as paperback book jackets for most major publishing houses. Among the many children's books he's illustrated, "The Thanksgiving Treasure" and "The House Without a Christmas Tree" received critical acclaim and were televised. Charles' fine art oil paintings and watercolors have been shown in galleries Scottsdale, AZ, Youngstown, Oh., Atlanta, Ga. and New York, and are included in numerous private collections.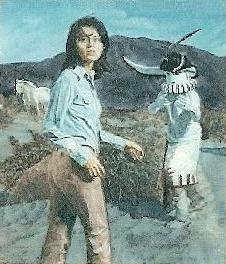 Title- The Turquoise Talisman
Medium- Watercolor
Signed- Lower Right
Size- 15.2"x 17"
Exposure- Exhibition Of Western Art March 4- April 15, 1979
Cornell Fine Arts Center Museum.
Price- $2,000.