Robert Watson

Robert Watson (1923 - 2004), was born in Martinez, Ca. Often referred to as a surrealist and a neo-romanticist, Watson was largely a self-taught artist. In the early 1940s, Robert spent several years in New York City studying the works of the old masters at the Metropolitan Museum of Art and other museums. He later spent eight weeks studying with Frederick Taubes at the University of Wisconsin before moving to Berkeley, where he lived for many years. Influenced by the likes of Guardi, Titian and Canaletto, Watson favored a technique developed by Venetian masters; the underlying of hot color with cold color and vice versa. Robert got his first significant notoriety in 1947 with a one-man show at Gump's in San Francisco. Quickly gaining national recognition, his works appeared in galleries in London, France, New York, San Francisco, Beverly Hills, Greece, Hong Kong, Brazil, Israel and Venice. Museums included Brigham Young University, Max Planck Institute, Hearst Collection and The California Palace of the Legion of Honor, which was particularly dear to Mr. Watson. Private Collectors have included Norman Cousins, Clark Gable, Ray Bradbury, Armand Hammer, Dominik Hasek, Vincent Price, Burt Reynolds, Ed Sullivan, JD Zellerbach and The Duchess of Windsor. Robert painted the cover art for the 1953 edition of Ray Bradbury's "The Martian Chronicles". Robert Watson was always well-known and loved in the Bay area. In 1997, on the occasion of Mr. Watson's 50-year retrospective at Weinstein Galleries, Mayor Willie Brown proclaimed May 17 as "Robert Watson Day". Watson was a very generous man, often donating his works to organizations and people whom he cared for or who had helped him along the way.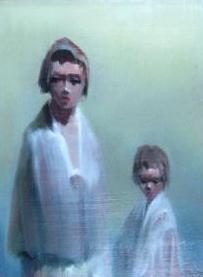 Title- Mother and Child
Medium- Oil On Board
Signed- Lower Right
Size- 6"x 8"
Price- $850.